Brickarms
Edit
Brickarms are a custom element in the Lego Universe, made by Will Chapman of Redmond, Washington, and mass-produced and sold athttp://brickarms.com They are miniature, plastic weaponry, designed for a multitude of themes, including but not limited to:
and
which all include sub-themes (Star Wars, Pre-WWI Weaponry, Special Operations) and are all designed to work with official TLG elements. Brickarms are held in high regard by the Lego community, especially so by Minifig Customization communities.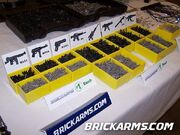 History of Brickarms
Edit
Brickarms began in 2006, as a request by Will's youngest son to design him WWII weaponry for his minifigures. Will began designing the figures and molding them, and this small request soon became a company. Series 1 was launched in 2006 on the website, with 8 weapons in the black color option included. These 8 accessories quickly became 16, 32, and currently 43 Brickarms accessories, not counting discontinued pieces and prototypes.
Brickarms Themes
Edit
Brickarms are spread across numerous themes. There are 4 main themes, and each theme has sub-themes within it. The list of main themes includes:
and their numerous sub-themes include:
Special Operations
Steampunk
Acopalego
Pirates
Castle
Western
Bladerunner
Halo
Adventurers
RoboCop
and
These themes are often grouped together into weapon packs.
Brickarms Series
Edit
Brickarms are released in waves, or series. There have been 4 series to date (January 1st, 2010.)
Brickarms Prototypes
Edit
Brickarms Prototypes are rough designs, home injected by Will, which are brought to Lego conventions, shown off on the forums, and given away by Will and Mr. Badger as contest prizes. Their existence is to show the fans what Will is working on. Prototypes are, more often than not, realized as fully molded, mass-produced items.