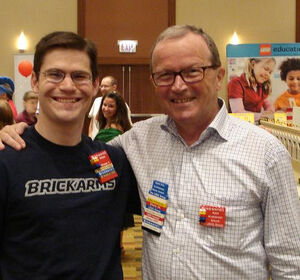 The Enigma That Is Badger (often simply referred to as 'Badger') is Will's helper on the BrickArms Forum and is considered 'the mouth of the Brickarms Forums. He more or less maintains the board and is considered both an administrator and a moderator on the Brickarms Forums. For a short amount of time, he was known as "the engima that is Shirley." 
Conventions
Edit
Badger often attends conventions along with Will, and has recently brought along to every convention a line of minifigs known as 'Black Lodge' and always come laden with Brickarms Prototypes.
Brickarms Forums
Edit
The Enigma that is Badgers rank is "Official spokesman". He has the highest total number of posts by far (~4400, as this number changes constantly). He makes many announcements, and announced and is taking votes for the 2010 Fan Choice Accesory. His signature includes a quote, "...and that's when the C.H.U.D.S. came at me". It also has a link to his Flickr.