Personal History
Edit
Not much is known about Mr. Will Chapman, the man behind the Brickarms Warfare. Will was shown to have an interest in weapons at a young age. Will currently lives in Redmond, Washington, with his family of 3 children and his wife. Will's father, uncle, and grandfather have all been in military service, which perhaps explains a lot.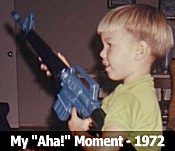 Will Chapman is an AFOL, and apparently, a trainhead. His favorite brickarms is the minigun.
The Beginning of Brickarms
Edit
Brickarms began in 2006, when Will's youngest son requested his help in designing WWII-era weapons to equip Lego minifigures with. Will in his own words says, "What began as a request in 2006 by my youngest son (then 9 years old) for World War II weapons has grown into a business that now produces 45 different weapons, weapons packs, and custom minifigs that are prized by collectors worldwide" In 2006, Brickarms began producing the first 8 items (known as "Series 1") which consisted of the:
RPG Rocket Grenade
MP40 SMG
M1A1 Thompson SMG
AK Assault Rifle
Colt M1911 Handgun
M4 Carbine
and the now discontinued:
PSG-1 Sniper Rifle
MP5 SMG
Will and Conventions
Edit
Will Chapman and his family often visit Lego Conventions as vendors. There they speak with fans, give out and sell Brickarms accessories, participate and supply building parties, and give back to the community.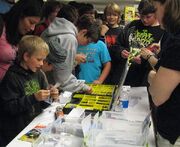 Often, Will reveals new and exciting designs and Brickarms prototypes (often shortened to BAP) while he also sells exclusive figures, special colors, and hard-to-find pieces.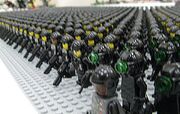 Will and The Forums
Edit
Mr. Chapman is also known to frequent the official Brickarms forums at least once a day. Often, Will merely signs on to check out some quick stuff. However, other times, Will will:
Announce Brickarms-related news
Judge contest entries
Answer questions  
Talk about new Brickarms accessories
While the man is only able to visit the forums every so often, Will is able to communicate with his favorite aspect to the Brickarms world: the fans!
Will Chapman Today
Edit
Now, Will Chapman continues to wow his community with new bigger and better accessories, with Wave 1 of Series 4 being released in April 2009. It is clear Will Chapman will continue to provide cheap, quality custom elements for the Lego community.
References
Edit
http://brickarms.com/galleries/BrickCon2008.aspx